On Wednesday, Nike released its newest set of country kit selections for Korea, the United States, and Nigeria. Once again, the Nigerian designs have stood out with the sportswear giant explaining the inspiration behind the design.
According to a statement on Nike's website, the kits mesh "traditional aesthetic of an agbada robe with modern football design."
The agbada robe is a popular loose-fitting piece of clothing in West Africa that is popular among the Yorubas. It is worn on special and momentous occasions.
The kit's pattern was hand-drawn and is highly symbolic of Nigerian heritage with nods to nobility and family. Nigeria's crest is placed centrally on the chest with a Swoosh underneath it. The player names and numbers integrate the eagle feather into the application. 'Naija' appears inside the neck of jersey and on the back of the socks in a new typeface.

Nike
Unlike the previous iconic 'Naija' kits that had the nation's crest placed to the left, the new home shirts have the crest placed in the middle, and the Swoosh follows and the player's number.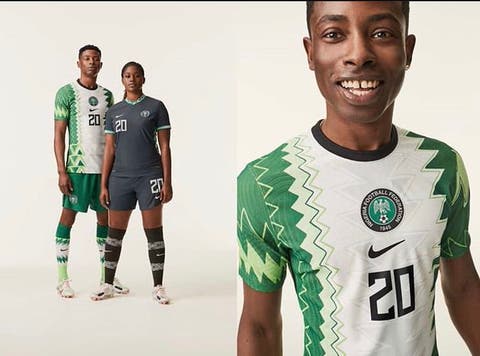 READ ALSO – Check Out The BTS Shots By Pelumi Andikan For Nike's 'Play For All' Campaign
The jagged outlines of the previous kit still remain to an extent. But they are moved to the sides to make way for white space in the middle; making the shirt have a passing resemblance to the national flag.
Perhaps taking influence from that new dawn of an ancient culture, the jerseys represent a new dawn for Nigerian football globally. The new kits will make their debut during the qualifying campaigns for the 2021 Africa Cup of Nations and the 2022 World Cup.